Calrossy students are in for a Whale of a time...literally!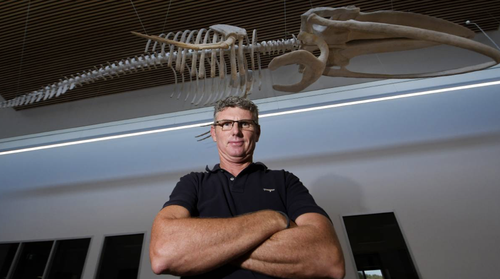 Our students are going to have a whale of a time when they arrive back at school on the Calrossy William Cowper 7-9 Campus January 28.
A really big 9 metre whale skeleton actually! It was installed in the foyer of the new Multi-purpose Classroom block over the last couple of weeks.
After a bit of research from the Calrossy Science department, Head of Science Mary Koch and Science Teacher Mr Todd McDonald decided a baby blue whale skeleton would fit the void in the ceiling of the new building nicely.
The baby blue whale skeleton measures 9 metres long and the 400kg steel and fibre-glass replica came in a box which Mr McDonald then had to assemble four-metres in the air. Mr McDonald said "The set of instructions were a simple photograph of how it should look when it's finished, so the impressive result was well worth the effort"
Apart from being a visual feature and great talking point, the whale skeleton will be also used as a teaching tool with anatomy and so forth as well as a feature about our learning. As part of Calrossy's school program, students look at human and animal anatomy so the structure will be both aesthetic and a functional part of study.