Our Alumni and National Ag Day
This year for National Ag Day we have had some past students let us know in their own words, what they have been doing since leaving Calrossy. We are so proud of our students, no matter how far and wide they go across Australia and the world.
Hanna Kermode (2013)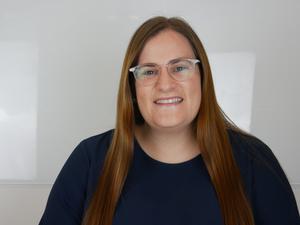 AuctionsPlus is an online trading platform – providing those in the agricultural sector with the power of choice when buying & selling livestock and other ag commodities.
We have evolved with ecommerce over 30 years to become Australia's single biggest livestock marketplace selling more sheep and cattle than any other single marketplace in the country, and in the last financial year facilitated the transaction of over $1.2 billion worth of livestock. Access to our platform is via trained and accredited livestock agent 'assessors' who are graded on the basis of experience, volume of business and a proactive attitude to their work. Our official assessment allows for quality, fairness and accuracy of information; giving vendor's the opportunity to tell a story, and utilise over 150 data points to market their stock.
Other benefits of using the platform include exposure to potential buyers nation-wide; animals remaining in your care until they're sold & delivered; no freight or yarding costs and control over reserve prices. AuctionsPlus runs regular real-time, online-only sales of commercial, breeding and stud livestock each week. However, the business is also diversified into wool auctions, saleyard and stud sale interfacing, online clearing sales and online property auctions. Selling options include spot, forward, liveweight, grid, carcass weight and dollars per head.
The COVID-19 pandemic has been a big disrupter for traditional selling methods, with restrictions at sale centres, social distancing and even cancelled sales seeing us experience an unprecedented level of growth for the platform, across not just commercial livestock but in machinery + clearing sales, property auctions and in the stud stock space.
My role centres around ensuring safe and trusted connections between buyers, sellers and AuctionsPlus. Should there be an issue with something purchased on the platform, the Integrity Unit is here to support and guide through the resolution process, whilst also managing threats to the system. I'm also involved with our internal Assessor Training and Accreditations, upskilling livestock professionals on their rules & responsibilities operating online in order to access use to the platform. I'm incredibly grateful to work alongside a team of passionate agriculturalists who whole-heartedly believe in changing the shape of the livestock sector.
Will Cant (2012), Ben Cant and Bill Castleden (2015)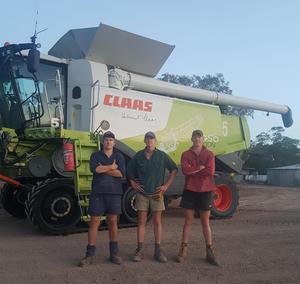 Calrossy Alumni Will Cant (2012), Ben Cant and Bill Castleden (2015) have partnered up to carve out a contract harvesting business soon after completing their studies at Calrossy Secondary Boys. For Will, following a stint working as a Ringer in the NT and Kimberley. His brother Ben, who had attained his fitter machinist trade qualification working in Warren, and Bill who had worked in Inverell, Tamworth then Warren through 2016.
Following the 2016 winter crop harvest on 'Mumblebone', in early 2017 these three mates stepped into the deep end and purchased a CLAAS Lexion 750 header and found the nearest wheat crop. It's been testing times of late with one of the harshest droughts on record, but this hasn't deterred these boys. Over the recent 2018/19 season, the boys based themselves in Warren, Western NSW and serviced an existing client. The establishment phase of the business, given the seasonal circumstances, is requiring a great deal of patience from the boys and the farmers they work with. Not every harvesting contractor went out to work in 2018/19 due to the poor season across Eastern Australia.

Bill said "Despite working long hours, because you're spending time with your mates, it makes everything that little bit easier. We start the day with a clean down of the machine, blowing out all of the dust and straw that could be of a fire hazard throughout the day, fill the bearings with grease, top up with fuel and after a general check over, we then start up for a 17 hour day. Through the day the machine purrs along and is capable of harvesting 60 tons per hour. We have the farmers operating a few chaser bins that come up beside us so we can empty out our bin to keep us going. This is the key; the more time we are moving the more work and money we can make. It's not all about the money for us but it helps to keep the bills paid. Our fuel bill for the day isn't like running a commodore down Peel Street".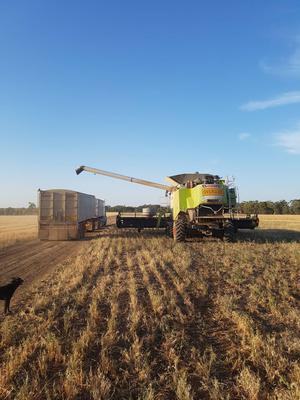 Ben said "When we stop and look back at the end of the day to see a paddock that has been stripped and all the grain getting loaded into Road Trains two trailers long to go to the silo it's just magic. You feel a proud sense of accomplishment, before going to bed and doing it all over again the next day".


Will exclaimed "Seeing regional Australia, its people and business's placed in 'pause' given dry seasons is 'bitter sweet'. It is encouraging to see people with almost an inherent 'buoyancy' and optimism as they consider their businesses, families and the opportunities that exist with the regions. However, it is also difficult to witness the strain that is caused by such an extended dry period. We know it will rain again soon and these small towns that we travel through will bounce back. We, like all farmers and agricultural contractors just need to keep making small incremental adjustments to stay afloat and keep on keeping on, knowing that, God willing, with every passing day we are closer to improved seasons that our country so desperately needs".

The boys jokingly mentioned "The days we all spent talking about what careers we would have following our school years. We could never have imagined the prospect of running a contracting business. It has it's ups and downs, but family has been a great support and we have a team of business advisors around us."

The three boys are looking forward to steering the header into a bumper crop that hits 8 tonnes to the hectare again soon, and know all of the Calrossy Alumni are praying for things to improve soon for all of our friends on the land.
Lisa Lonsdale (2000)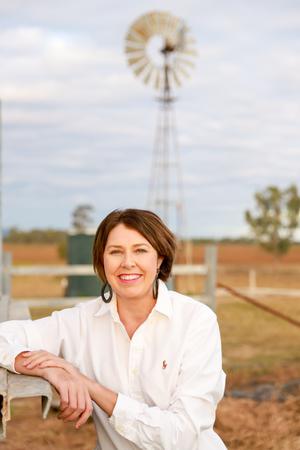 After finishing school I went to UNE where I studied a B. of Agribusiness majoring in Rural Science. During this time I also worked part time at Veterinary Health Research where we collected samples from sheep and cattle trialing new vaccines, drenches and dips (animal health). After Armidale I moved to Central Queensland and worked for Elders for a year before getting into rural finance.
For the next 10 years I worked in South west Qld and Central Queensland as a bank manager for rural clients. In 2015 I started my own advisory business where I assist rural clients with their finances preparing their figures in order for them to seek further finance to expand their businesses.
I also work with families with their succession plans to allow family members to exit or bring the next generation into the business. My clientele range from young people buying their first property to larger businesses that have multiple properties and multiple millions of debt for their business and look at strategies of the business to ensure it's viability and growth.
I have liaised with mining and gas companies to ensure they are compliant with rural land holders, indigenous organisations to assist with their rural production as well as corporates looking to negotiate with land holders.
I also have done drought and flood applications assisting producers with availability of grants and concessional loans to assist their businesses through financial hardship of natural disasters. My area that I cover is quite large from Charleville to charters Towers basing myself in Rockhampton with a radius of 600km. I have travelled up to 50-60,000km per year to grow my business to where it is now.
In this time I have sat on the Agforce board for Agribusiness and Drought Strategies and have done several presentations with other businesses informing them of how to understand the finances of their businesses. I have liaised with the federal and state government over Agricultural policy issues affecting rural landholders
I started this business from the ground up and I now have 2 part time staff assisting me with my business. With technology advancement one staff meme Er works from her property 2 hrs away from Rockhampton. have already seen drought for some client in excess of 3 years, cyclone devastation of their properties and low and high commodity prices.
My business is quite diverse and no day is ever the same. I want to share my story with your students as I wasn't the high achieving academic student at school and was advised at the time that Ag College was my best option and not university. I want your students to know that there are so many options in Agriculture and Agribusiness these days compared to the early 2000's when we were encouraged to leave the land and explore off farm opportunities this thank goodness this has changed. There are so many ways to work in the industry and as long as you have the right attitude to learn and diversify the doors to this industry will open.
My website is www.lonsdaleagribusiness.com.au where you can find further information about my background and my business.