Outback Magazine visits Calrossy to feature eCalrossy
eCalrossy is really making news. Journalist Kristie McKenzie, who works in the Special Projects Department for R M Williams Outback Magazine, was in Tamworth yesterday with her photographer to interview our eCalrossy coordinator Mark Doran about our innovative distance education program that is gaining momentum within the distance education community throughout Australia.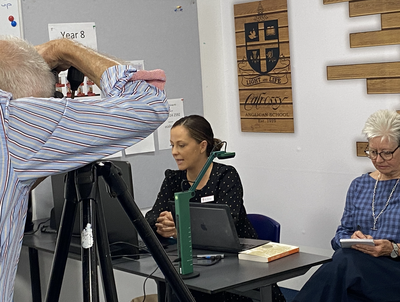 eCalrossy allows students to access quality real time education without leaving home through specific timetabled interactive zoom sessions.
While in the region, Kristie took the opportunity to also interview one of our eCalrossy students and their parents at home to find out just how beneficial this program can be. eCalrossy helps bridge the gap between students wanting a quality education, in a supported and connected environment but who are unable to attend traditional school for a number of reasons, be it working on the farm, demanding extra curricular activities, sporting commitments, medical conditions or they are just not ready for full time boarding.
Kristie grew up in outback Queensland near Longreach and was a student with the School of the Air so was very interested in how the eCalrossy program came about and how it operates. Kristie was also able to witness our eCalrossy program in action on the Calrossy William Cowper Campus with Teacher Elle Rixon online in our eCalrossy studio with her Year 7 English students.
Keep an eye out for the feature in an upcoming issue of Outback Magazine soon.